This post brought to you by Red Robin. The content and opinions expressed below are that of Duct Tape and Denim.
I love antique shopping.  The Music Man loves mountain biking.  Two things that have nothing to do with each other… or do they?
We discovered that if we find a location with great mountain biking AND great antique shops we can both have a great time.  Recently we found that combination in Roseville, California, just outside Sacramento!
Roseville is about 90 minutes away from our house so by the time we get up, pack up the cycling equipment, and drive to Roseville it's already time for lunch.  (We don't get up early on our day off.) So our first stop is Red Robin for lunch!  There are several locations in the Sacramento area on the way that we could choose from.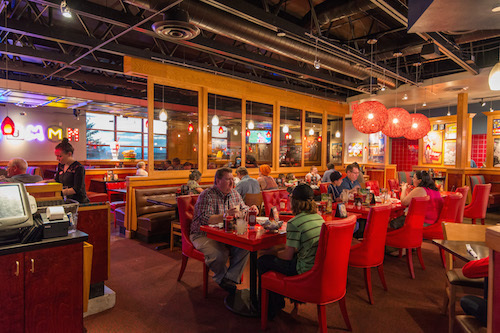 I hadn't been there in years so I didn't realize that they have revamped their menu.  The Music Man is on a new anti-inflammatory diet so we're having to think more about what we eat.  Can I just say that the Red Robin website impressed me with their "Interactive Allergen Menu"!?!  There you can click on the ingredients you are allergic to (milk, eggs, gluten, wheat, fish, shellfish, peanuts, tree nuts, and/or soy) and see what your options are.  I found out that he can get any burger on a gluten-free bun or lettuce wrap.  And he really does love the lettuce wraps!
I'll take the bun!
Also not gluten-free, but delicious!
Design inspiration is everywhere you look and sometimes all you have to do look up!  Isn't this a great idea for the ceiling?  (You may be seeing this idea on one of my blog posts soon!)
And this amazing space with the bottle chandelier would be a great place to meet all your friends.  Especially now with gluten-free, nut-free, or no soy choices on the menu.  Something for everyone!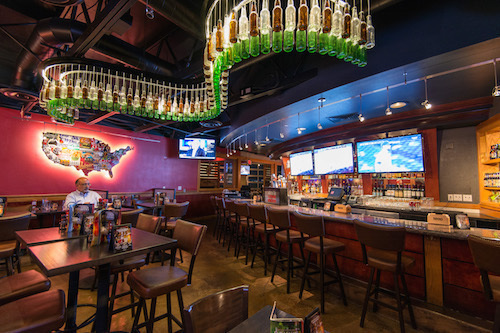 Here's a close up of the USA on the back wall.  I've seen this with license plates but Red Robin used boxes from some of their featured beers.
Now on to the shopping!
The first time we went to Roseville for the day I looked up "antique shop" on my map app and listed out the ones I wanted to go to.  Well, I was greatly disappointed by some of the shops I found.  They were either closed or not really antique shops, more like 1990s furniture consignment.  Since then I've learned at the map app isn't the best way to find antique shops.  Check out this amazing vintage shop I found downtown!
The Treasure Trove more than made up for those shops!  Every visit since then I've just gone straight to the Trove.
It doesn't look like much on the outside but take a look at my collage below and you'll see some of the goodies inside.  And this place is HUGE!
Notice the burger in there with the "mantiques" and right next to the Bingo cards I bought?  If that looks good to you, you can get a free birthday burger when you sign up for Red Robin Royalty
Please leave a comment and let me know what burger you get!  Also, let me know of any other antique stores I should go to in the Sacramento area.    Thanks!
'Til the next market,
 Ann @ Duct Tape and Denim
Pinterest | Instagram | Facebook | Twitter | Etsy | YouTube